My wife and I recently had our third child
10
weeks ago
;
so currently our family consists of 3 children under the age of 3. I would not recommend this plan to anyone thinking about having kids. Now don't get me wrong, I love my children, I just didn't want them all at once.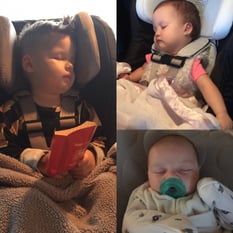 The other night as I was coming home from work I opened the garage door and all could hear were 3 very distinct voices crying out, not in beautiful harmony but with a nails-on-a chalkboard kind of quality to it. I literally closed the door, stood in the garage, and thought "do I really want to go in there?" I could literally feel my blood pressure rising, and all I could say was, "Jesus help me to make it until 7pm." That's, of course, bedtime for our kiddos.

Have you ever felt this way before? It could be your children, job, in-laws, or life in general that has become overwhelming. One of my favorite scriptures gives us some help for facing these kinds of overwhelming situations.

"Humble yourselves, therefore, under God's mighty hand, that he may lift you up in due time. Cast all your anxiety on him because he cares for you." (I Peter 5:6-7 NIV)

In the passage above we can observe two very distinct character qualities of God. First he is sovereign, which is a fancy theological word for all powerful and above all. Secondly, He deeply cares for us and knows we can't handle the difficulties of life on our own.

In the original Greek language the word cast means "to throw something upon someone or something else." This word suggests a deliberate decision to trust. This decision means we willfully place our concerns, worry, and anxiety on God never to be picked up again. One of the greatest ways we can "cast our cares" on God is through prayer.

When it comes to prayer I John 5:14 says, "This is the confidence we have in approaching God: that if we ask anything according to his will, he hears us." This passage means that when we are facing overwhelming circumstances all we can do as finite beings is cast our cares on our all powerful, deeply caring, infinite God and in doing so we allow him to work it out so we can move forward.

Whatever you may be facing today, remember God is all-powerful, and deeply cares for you. Often when I feel overwhelmed I use this simple prayer to help me cast my cares on God:

"Jesus help me today to trust in you more than I worry about my future. I know your plans for my life are good, which means regardless of what I'm facing you are with me and for me. Thank you for deeply caring about the things that concern me."
Amen.

Bryan Rees
Issaquah Campus Pastor