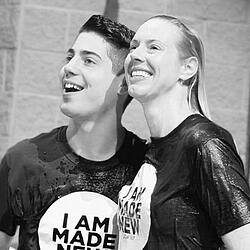 At Timberlake Church, nothing excites us more than watching people take their next right step in Jesus. And when Perrin, a Timberlake attender, took her faith public by getting baptized a few weeks ago, we celebrated with her.
Please take a few moments and read her story:
Growing up, Jesus wasn't a part of my life. I had no real knowledge of who He was. My father was an atheist and my mother didn't seem interested. I heard about Jesus from some friends in high school, but truly, nothing really sank in.
Without any sort of faith structure in my life, anxiety played a big part of how I functioned. And, although I felt that everything happened for a reason, I never had the feeling that God was looking out for me.
But it when I met my husband, things started to change. Something just seemed to click in my heart and my previous "everything happens for a reason" theory started to make sense. And that's when I made the decision to follow Jesus.
My faith journey has been a long one but after more than ten years and several moves, we found ourselves at Timberlake Church. And it was at Timberlake where everything in my life really came full circle. For the first time, I actually felt one hundred percent connected with Jesus.
Everything finally made sense.
Life just seems easier now. Days are not perfect and life still presents it's challenges but it all feels manageable, especially knowing that Jesus is always there. I can always count on him, and that's a pretty awesome feeling.