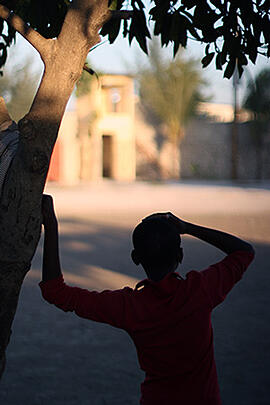 This past January, Pastor Jordan and I took a trip to visit Timberlake's orphanage in Haiti, a few months before our Timberlake missions team took their trip in March.
Our main focus was to scope out the area, capture some footage of the orphanage, and conduct some interviews with the organization's pastors and leadership.
So I did just that. I took as much footage as I could. I filmed kids playing soccer. I filmed the blue skies. And I shot a few interviews.
For me, it wasn't a vacation. It was all work - technically just a part of my job as the Media Director here at Timberlake – so I didn't anticipate making an emotional connection since I was behind the camera. That changed, however, when this particular young man came up and introduced himself to me.
We drove through Port-au-Prince, and beyond several small villages and parked our van in an open area. Because our beautiful white van stood out like a sore thumb, kids and adults from the area came from all over to check us out.
I got out of the van with my camera in hand and waited for the other half of our crew to arrive when Darley - a teenage boy, probably 16 or 17 years old, wearing a red t-shirt and long jeans - came up to me.
He spoke mostly good English and stumbled on a word here and there but we ending up talking quite a bit. We talked a little about Jesus. A little about America. And a little about how he just wants one chance at a better life.
Which I know is unlikely for him.
Why? Because he is poor. Because his family has nothing. His country is corrupt. He has no connections. No resources. Nothing.
Sadly, there isn't a whole lot we can do for Darley or people in similar situations. We want to bring them home, clean them up, send them to a great school, and watch them live a better, more meaningful life. But, also, that's unlikely.
Some families are an exception though. And my hat is off to those Timberlake families who have adopted kids from struggling countries and have given them a great opportunity. But that's not something my family, and many families, are able to do right now.
So what can we do?
We can pray. We can share the good news of Jesus Christ to people who may not have heard about him, give some of our abundant resources to those who have next to nothing, and show our love to those who desperately need it. That's what we can do.
And that's something we at Timberlake Church care so deeply about. We believe it's our mission to reach those outside our walls, both near and far. To countless individuals across the oceans and to our friends and neighbors across our streets. That's the heartbeat of Timberlake Church and I'd invite you to jump in and participate.
Before hopping back in our big white bus, I asked Darley if he could write his name down on a piece of paper so that I could remember him and pray for him. I tucked it away in my wallet and that's where it has remained ever since.
You know, I'm thankful that Jesus brought me out of my work for a few moments and brought me into the life of a young man named Darley. And I'm thankful to be a part of a church that cares so much about reaching out to those who so desperately need it.
Bo Lane
Media Director, Timberlake Church