Wednesday night we had the privilege to host over 150 people at our Marriage Ministry Preview and Meet and Greet. Our entire team is so excited for our upcoming re|engage Marriage Ministry!
For my family, helping marriages is very personal. When we began attending Timberlake just over five years ago, we had a court date scheduled the following Thursday to end our marriage. That first Sunday day we heard a message with hope grace and unconditional love! We joined a group, and connected with some other couples that were willing to jump into our mess with us. There was no judgement and we found a safe place to work through our stuff. Over the next several months our lives and our relationship were transformed. We are still married as a result of God's love, amazing grace, and a few people who loved us along the way!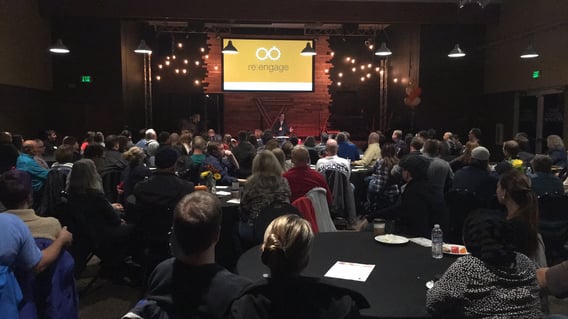 re|engage is a marriage enrichment program. Any marriage can benefit from re|engage. The program is designed to meet your marriage wherever it is. If you're marriage is at an 8 and you want it to go to a 9, a 5 and you want it to go to a 6, or even a 1 and you want to go to a 2. re|engage is for you.
"But at the beginning of creation God made them male and female. For this reason a man will leave his father and mother and be united to his wife, and the two will become one flesh. So they are no longer two, but one. Therefore what God has joined together, let man not separate."
-Mark 10:6-9
Join us beginning on January 20th at 7:00pm. To get on the interest list go to www.timberlakechurch.com/marriage. We are so excited to help build strong marriages!