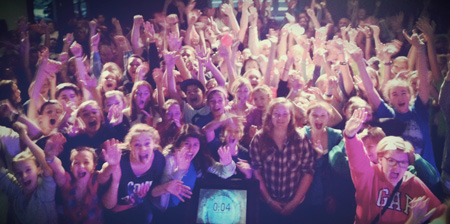 The middle school years are completely unique compared to all others. This is the time where some of the most pivotal decisions are made that truly set up the future of our students. It's also the time when students are influenced more than any other time in their lives, as they search to figure out who they are and who Jesus is to them. That is why, here at Timberlake Student Ministries, we value and are passionate about the mission of discipling young teens in a fun and safe environment.
This past weekend, we held our annual fall kick-off event, Escape, and it was unforgettable. Not only for the students but for our leaders as well.
A total of 169 students, alongside 23 adult leaders, packed into 3 buses and journeyed to Family Fun Center for a few hours of fun. Then we drove to Arena Sports, which was packed with inflatables, photo booths, a mechanical bull, and more! After everyone was hyped up on pizza and soda, we ventured back to Timberlake Church for a service and a relevant, practical message. It's there where God encountered many students, even some for the very first time!
While scanning the crowd during worship, I could see young people interacting with God and pursuing him like I had never seen them before. It's true, when you call out for God he answers. And our students get it.
That's the reason behind what we do here at Timberlake and why we have events like Escape. To usher students into encountering the one and only Jesus Christ. We will work tirelessly and endlessly to help students take action and ignite the next right step in their relationship with Jesus.
I believe we are ministering and discipling a group of "game changers" who will forever change this community, not by their own strength but the strength of the one who empowers them: Jesus Christ.
When Jesus is speaking with his disciples after his resurrection he gives them simple instructions: love God more than anything, love people more than yourself, and serve relentlessly. It's these principles that we seek to instill in our students at every service, every small group, and every special event.
Jesus is on the move in Timberlake Student Ministries and we invite you to come and take a look at the life change that is happening all around us.
Matt Castro
Middle School Pastor